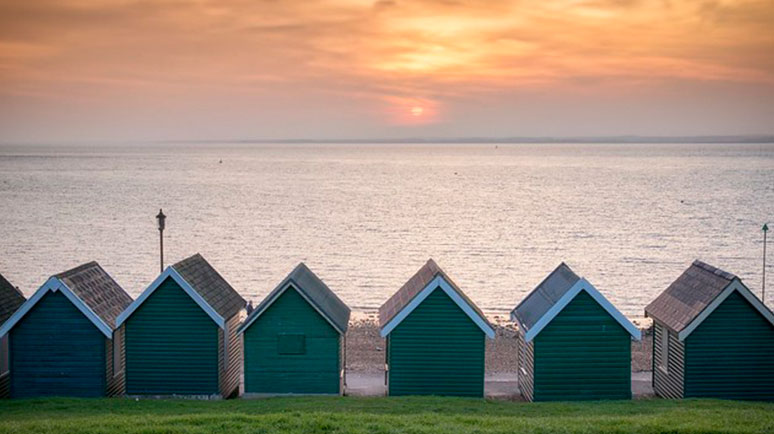 North
Best beach for some sailing action: Cowes
Cowes is the Mecca for all things sailing. The beach itself is shingle and you can often unearth some sea glass treasures. Watch out for passing cruise ships and high-octane sailing sports.
Best beach for sunsets: Gurnard
Gurnard is a great place to catch a sunset as it lights up the sky over the Solent. The beach is pebbly and good for swimming – just watch out for learner dinghy sailors. There is a café and pub, plus public toilets, all easily accessible from here.
Best beach to feel like a queen: Osborne
Not just any beach, this is Queen Victoria's beach. Accessed via paid entry to Osborne, take a stroll through the Italianate-style gardens or catch the shuttle bus. Once here, you will find a café serving up classic ice creams and teas and coffees, plus Queen Victoria's bathing machine.

North East
Best beach for sandcastles: Appley
Perfect for families, Appley offers miles of fine, golden sand and a long flat promenade, perfect for pushing a buggy or wheelchair. When the tide goes out, you feel like you can walk to Portsmouth. Along the seafront, you will find plenty of cafés, toilets, parking and children's play areas as well as Appley Tower, a gothic folly built in the 1870s.
Best beach to sit with a G&T: Seaview
This sandy beach is popular with the sailing crowd during the warmer months, culminating in the Seaview Regatta in August. The sands are good for beach games at low tide or just sitting and relaxing looking across the Solent.
Best beach for dogs: St Helens
Four-legged friends are welcome on the beach here all year round. It's easily accessible for buggies and wheelchairs too with a flat promenade. There are pretty painted beach huts, a café and toilets all close by. The beach itself is backed by the sandy dunes of The Duver,  perfect for the dog to have yet another walk.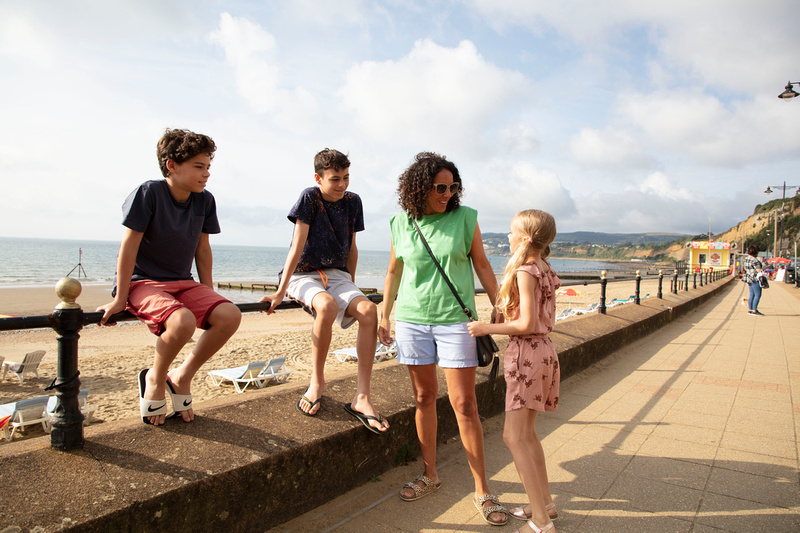 East
Best beaches for little ones: Sandown or Shanklin
Choose from either beaches as both are equally brilliant for families. The waters here are ideal for swimming or paddling and there are plenty of options to get on the water. The golden sands are perfect for sandcastles and you will find all the traditional amusements of classic seaside resorts.
Best beach for rock pooling: Bembridge
The best place for rock pooling is Bembridge Ledge. Revealed when the tide is out, this rocky outcrop extends as far as the slipway ramp at Bembridge lifeboat's offshore boathouse. Expect to find various crabs (including the famous edible Bembridge crab), shrimps, anemones, goby fish and brittle stars.
Best beach for a barbecue: Red Cliff
Red Cliff at the end of Yaverland beach is the one beach on the Island where barbecues are permitted. When the tide is out, it's the perfect spot to relax with a bite to eat, whilst the kids play.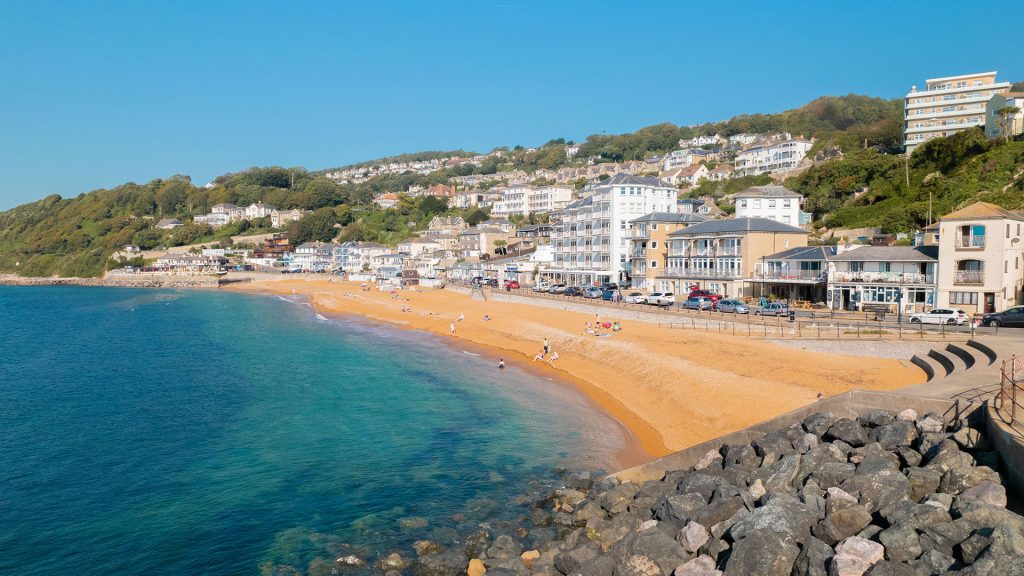 South
Best beach for feeling like you're in the Med: Ventnor
Most of the south coast feels decidedly Mediterranean thanks to its unique microclimate and sub-tropical plant species. Ventnor beach, backdropped by pavement cafés, cliff-top houses and winding roads can make you think you have taken the boat to the Amalfi Coast by accident!
Best beach for dogs: Steephill Cove
Dogs are permitted on the beach here on a lead during the day and then given free rein after 6pm. Steephill Cove is a true hidden gem and could easily be mistaken for a tropical island. Only accessible by foot, making it ideal for beachgoers with dogs, as your four-legged friends get a good walk there and back.
Best beach to have to yourself: Binnel Bay
Its relative inaccessibility means that if you make the trip to Binnel Bay, you are usually rewarded by having this rugged and unspoilt beach to yourself. You will not find any facilities here so best to pack a picnic and you certainly need to be able to walk and climb over some of the larger rocks to get there.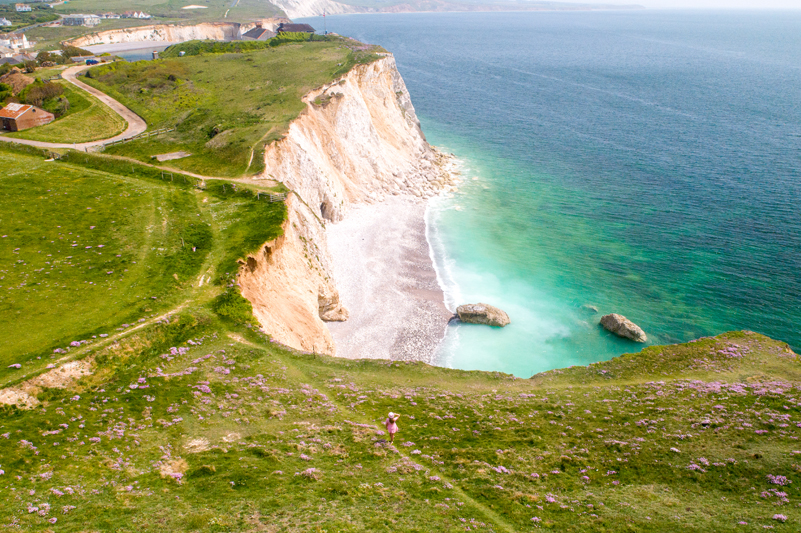 West
Best beach for watersports: Compton Bay
Well known for its waves when they are big, Compton is great for surfing and when they are small, even better for bodyboarding and just general fun in the water. The reddish sand is backed by natural cliffs. Take the wooden steps down but don't forget your beach gear – there is a car park, toilet and ice cream van within walking distance.
Best beach for swimming: Freshwater Bay
Once you have made your way down to the sea (we suggest wearing sea shoes as this is a pebbly beach) you will be rewarded with almost instantly deep water, perfect for swimming.
Swim round to the secret coves that can't be accessed by foot. Do let someone know if you are going swimming as this beach does not have a lifeguard but does have an independent lifeboat station.
Best beach for sunsets: Colwell
They say west is best and that is certainly the case when it comes to sunsets. The beach at Colwell provides a stunning display with Hurst Castle creating a dramatic silhouette across the Solent. Take a dip in the sea here for an evening swim followed by a drink at one of the few pubs and eateries nearby.