Get lost in the great outdoors.
Being an island means we've got more than our fair share of coast – from sunny, sandy, traditional family beaches to wild cliffs and secluded coves.
And we know how to help you get the most from it. From kayaking to kite-boarding, surfing to sailing and coasteering to fossil hunting – we're the original Jurassic Park! – our beaches are a year-round thing.
For natural shorelines and the opportunity to surf, head straight to the National Trust's Compton Bay and Downs on the island's south coast. Backing onto chalk downland, it's one of the UK's best surf beaches.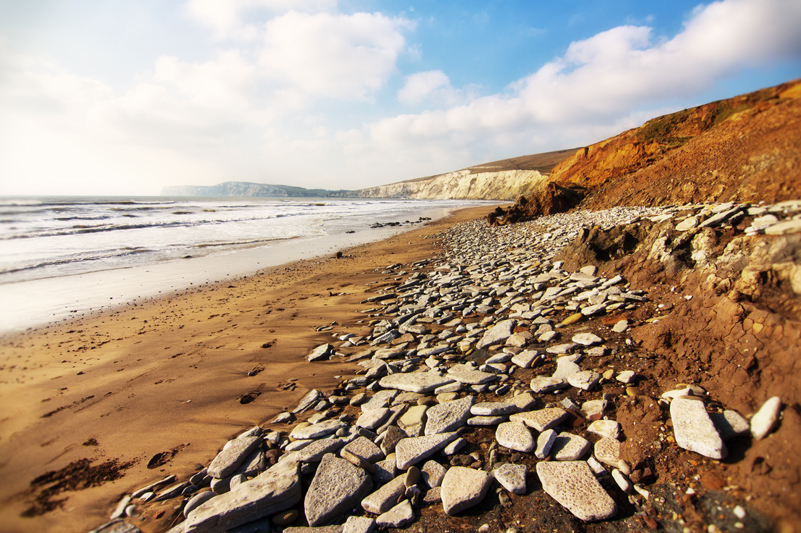 Compton Bay is also 'the richest source of dinosaur remains in Europe' which means you automatically up your chances of getting lucky with a find. And, if your young fossil hunters don't strike lucky, whisk them along west to Hanover Point where they can 'discover' huge fossilised foot casts preserved in the rocks on the beach.
Fancy a bit of rock-pooling? Steephill Cove, nestling at the foot of the Ventnor Undercliff area is your best bet. Accessed on foot, it also has a café to the rear.
If you're coming for the day, park yourselves up on Ryde beach where there's enough sand to build a million castles and plenty of eating places and other welcome facilities. Or visit Shanklin Beach where there's beautiful sand and clear waters.
If you love the sea but don't want to be in it, then visit The Needles, those snow-white, jagged rocks which have become the Island's international symbol. For unique and breathtaking views, take the beach chairlift down to Alum Bay. Don't forget to try your hand at a very special island tradition; making a sand ornament from Alum Bay's 21 different coloured sands – just like the ones presented to Queen Victoria in 1860.
It goes without saying that whether you're here for a day or a week (or two!) the 70-mile Isle of Wight Coastal Path is totally free and one of the best ways to see the island. Or, as we're now listed as one of the world's top ten cycle routes by Lonely Planet, why not bring your bikes for a spin?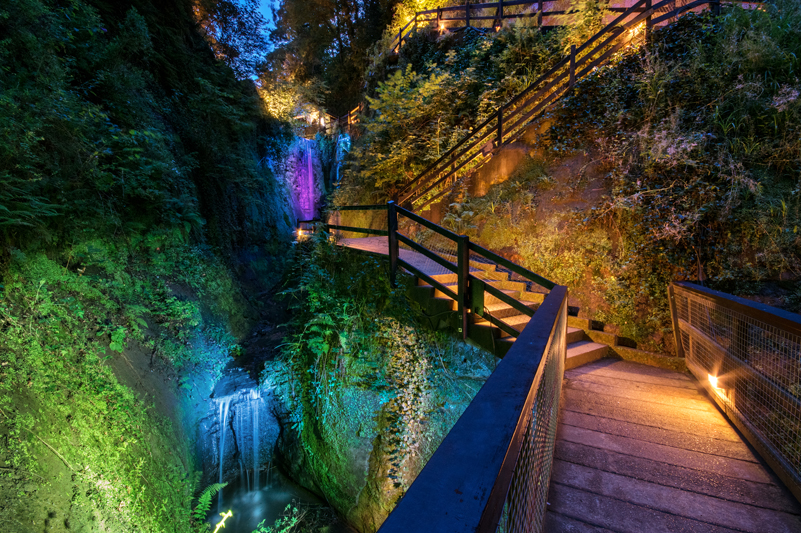 If you're looking for a truly unique island experience – it's been going more than 200 years – follow in the footsteps of Jane Austen and Queen Victoria and take a tour of Shanklin Chine.
This tree-lined gorge winds its way from Shanklin Old Village to the beach below via a stunning waterfall and, at night, magical illuminations. It's also the place where PLUTO – the audacious Pipeline Under The Ocean – was laid from, to secretly pump millions of gallons of fuel to British forces during the D-Day Landings in 1944.
For more exotic flora still, take a turn round Ventnor Botanic Gardens where – thanks to our gorgeous micro-climate – plants normally only found in glasshouses thrive outdoors.
Or keep your eyes peeled for our own native red squirrels which live wild on Wight. Parkhurst Forest in the island's north east is the perfect spot for some squirrel spotting as they have a mixture of trees and a good hide for you to use.