Taking your beloved pooch on a ferry is easy, and this guide will explain both car and foot travel in detail to help you feel prepared for your trip.
This post is the second in a three-part series, sharing useful advice from Wightlink to help make the crossing comfortable and safe for your four-legged friend.
Part two focuses on the different environments you can expect to encounter and what to expect when you arrive at the ports, on the ferry and how to get on and off the ship with your pup.
Pre-travel check list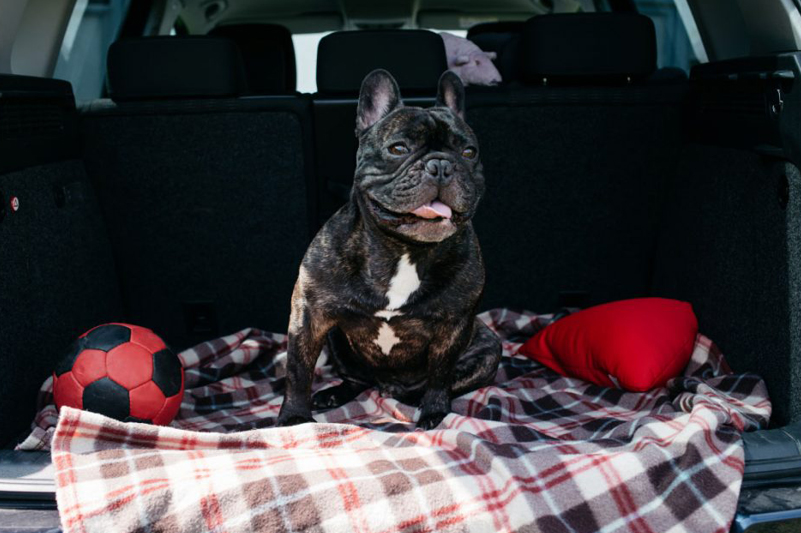 We've put together a list of useful things to pack if travelling on a ferry with Fido. An organised approach will take the fuss out of packing and it means you'll be on your way in no time.
Myth-buster – you don't need a passport to reach the Isle of Wight and neither does your dog!
Here's what you will need:
A bottle of water
A portable bowl
Dog lead
Poo-bags and cleaning wipes
A bag of treats
A coat
Favourite toy or ball for fetch
A towel – for an unexpected swim or change in weather at your destination
A dog bed for longer trips
Any medicine your dog may need
Top dog-travel tip – avoid feeding your pet directly before sailing as they may become travel sick.
At the port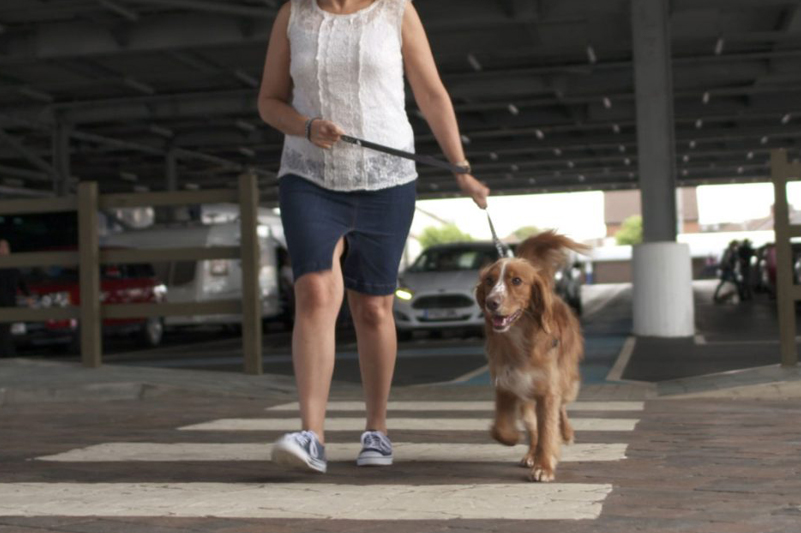 We have ports at Portsmouth, Lymington, Fishbourne, Ryde and Yarmouth. These are busy places with lots of sights, smells, vehicles and people which can be very distracting for your pup. It's best to keep dogs on the lead at all times when moving around the port as they will be keen to explore.
Like us humans your pooch will appreciate a quick walk, a drink and pit stop before sailing. While we have bowls of water at each of our ports we do suggest bringing water, a pop-up bowl and some treats with you.
While at the port, we recommending toileting your pooch if possible, but please do clean up the area afterwards. You'll find cleaning materials at the pet cleaning station in our Customer Building. If you don't clean up after your pet, we may charge you a £50 cleaning fee.
Walks from the ports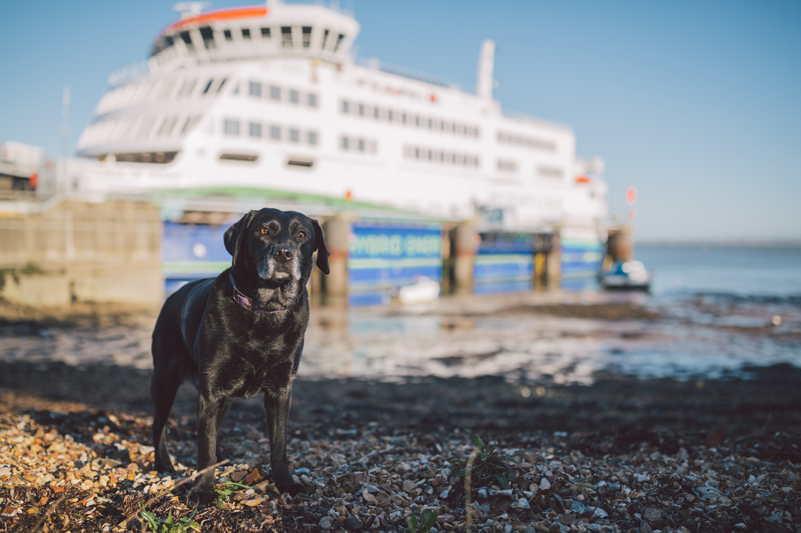 There are a number of scenic coastal walks directly from the ports that are a lovely pre-journey stroll for your dog.
Foot passengers at Ryde can walk the pier and from Fishbourne there's a small path opposite The Fishbourne Inn pub that has a leafy 10 minute walk to Quarr Abbey. For those with less time before they travel, head to the green in the port grounds to the left of the boarding ramps.
At the Portsmouth car port there's plenty of places that are a short walk away including the cobbled streets of Old Portsmouth. While you're there, walk along the historic Hot Walls and Round Tower, which offer excellent views of the Solent. If short on time, take a walk along the harbour in the port – it overlooks the trawlers coming in to deliver their catch.
Less than half a mile away from our Yarmouth port is a green right on the shoreline, perfect for a quick game of fetch and leg stretch. If that's too long, walk along the harbour and admire the yachts moored next to the ferry car park.
At Lymington, stick to the pavements and follow the main road out to the bridge for a beautiful view of the river. If there isn't enough time, head to the small garden area at the port.
Don't forget to keep an eye on the time, though, to make sure you and Fido are safely back in the car or in the foot passenger queue before the ferry departs!
Boarding the ferry
If you're travelling by car this is easy as your woof is in the car with you! A member of staff will signal when you can drive onto the ship and guide you through where and how to position your vehicle.
If you're on foot there is a designated area to wait for the ferry, this is the same for all passengers including dogs. This is sign posted, however if you're not sure, a member of staff will be able to help. Wightlink staff will let you know when you can board, guiding you and your four-legged friend safely onto the ferry and upstairs to the pet-friendly passenger decks.
On the ferry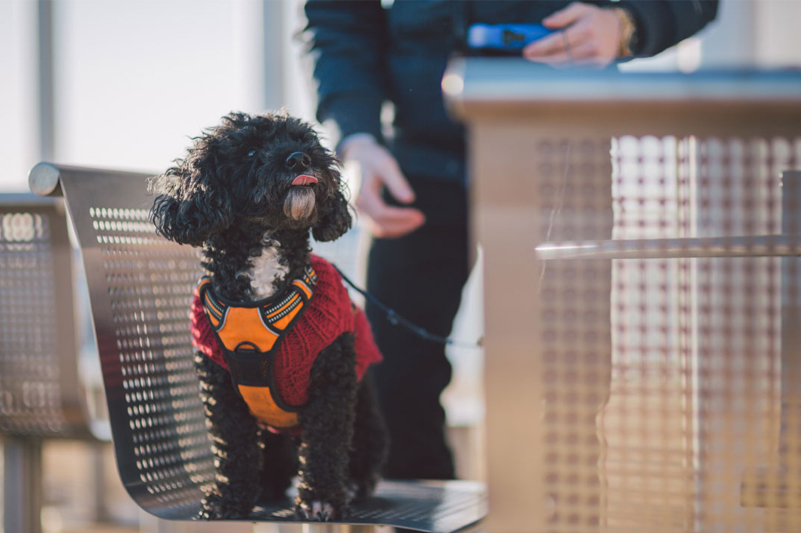 All of our ferries have designated pet-friendly areas for the safety and comfort of everyone travelling. The following are the on board areas for those travelling with dogs:
Victoria of Wight – Deck 4 rear lounge, opposite end of the lounge to the Wight Taste café
St Clare – Deck 4, adjacent to the Children's Play Area
St Faith – Upper gazebo lounge (there is no lift access to this lounge so those with accessibility needs travelling with a dog can sit in the main lounge near the lift)
Wight Sun / Sky / Light – Opposite end of the lounge to the Wight Taste area
Wight Ryder I and II – Anywhere
For those travelling by car, once you're on the ferry and parked you have two options for your dogs. One is to take your pet out of the vehicle and follow the signs upstairs to the pet-friendly area.
The other is to leave them in the car, with the window open of course. If you decide on this option please be aware that while the vessel is sailing you will not be able to go back and check on your dog. Some passengers may find this the best and less stressful option for their pooch.
It's up to you which option you choose, it will differ for each owner and the temperament of your pup.
Ferry guidelines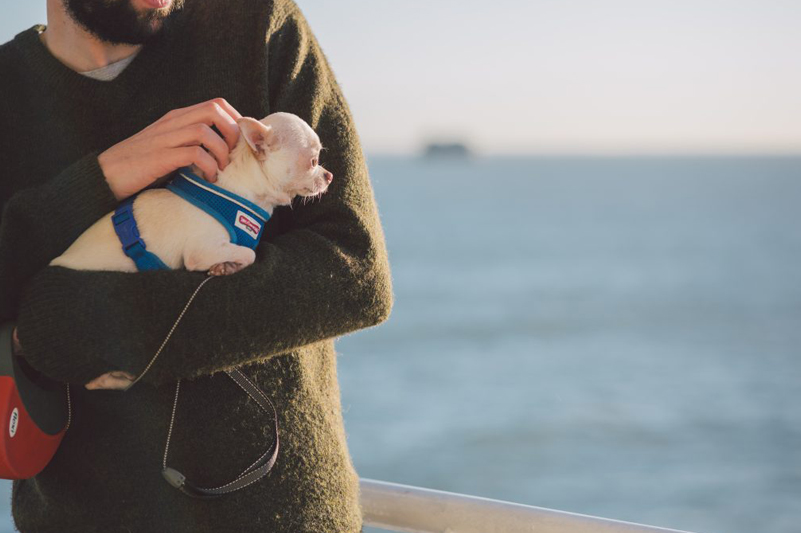 For passengers using the pet-friendly areas, there aren't many guidelines but the few we do have are important and worth familiarising yourself with.
Let's get the big issue out of the way first, little accidents happen and we understand that sometimes this can't be helped.
All we ask is for the same consideration you'd have for your home. It's your responsibility to clean up after your furry friend leaving the area clean and hygienic. If you haven't brought cleaning wipes with you, please use the materials at our pet cleaning station or ask a member of staff for help. If you don't clean up after your pet, we may charge you a £50 cleaning fee.
While on the ferry it's worth remembering that your dog must remain on the lead – there's lots of sights, sounds and smells that will be unfamiliar, exciting and tempting to explore.
Pets aren't allowed on seats or in retail outlets and if your pooch becomes distressed a member of staff will assist you to an isolated area until your pet calms down.
The rules aim to help keep the ferry crossing an enjoyable experience for everyone travelling.
Read the full set of guidelines on our 'Travelling by ferry with your Pet' page.
DisemBARKing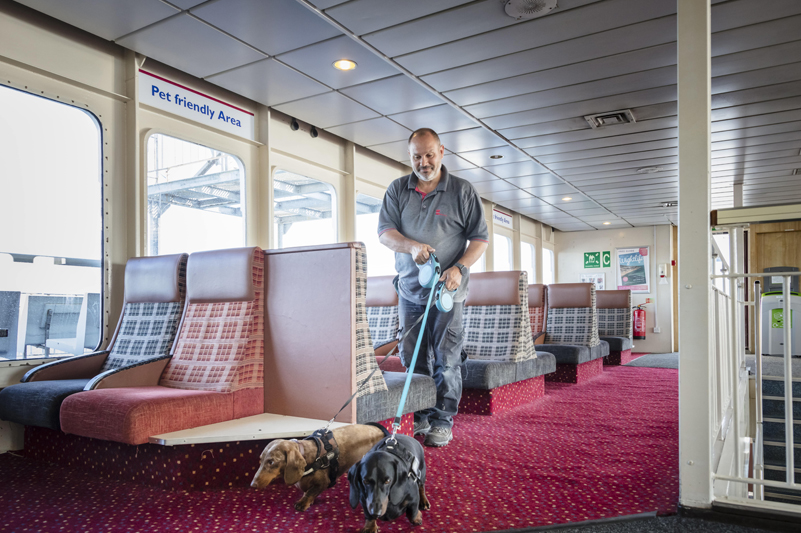 Getting off the ferry with Fido is just as easy as boarding the ferry. All you have to do is listen out for the announcement onboard, this happens around 10 minutes before the ferry docks.
This announcement will let car passengers know when they can head back to the car and when foot passengers can start preparing to disembark.
Take care on the stairs with your dog – remember there will be lots of loud sounds that will be distracting for your pet as the ferry docks.
Car and foot passengers are staggered for safety and once in the stairwell you can either head to your car or move down to the front of the ferry ready to walk off with your pooch. Members of staff will be on hand safely guiding passengers off the ship.
The travel experience is even simpler if you're travelling on the Fast Cat as you're guided by staff through the whole process – so you and your dog will be in good hands. All you need to remember is that you must remain seated while the ship is moving – easy!
Once off the ferry it's time for the next stage of your adventure and we hope you've got some fun things planned for your trip, whether you're visiting the Island or the mainland.